Rocka Bowling
Perks of bowling: "You don't have to be in shape to bowl. It's the only sport where there's a way to signal for a cocktail waitress." – Robin Roberts
Having risen to the brim of popular culture for decades, whether you have your Homer Simpsons or your Fred Flintstones, the modern game of ten pin bowling has survived as a western cultural phenomenon for nearly a century, its technology and popularity growing through generations, and today with the handheld mobile device in millions of hands, the game's technology has improved so much that anyone can now play digitally outside the confines of the bowling alley. With many hand-held developers competing for the title of best bowling game application, Slightly Social feels it has landed a winner.
Up steps Rocka Bowling to the line.
Having already knocked down the pins of one million users for iOS devices and two million for Android, Rocka Bowling has climbed the ladder and claimed the prize for best free bowling game on the handheld mobile market.
The original game, recently scouted and acquired by Slightly Social (SS), is a canvas with much room to add to the work of art of a game, both aesthetically and technically, and thus has the company putting all its eggs in one basket. They are convinced that Rocka Bowling, along with another game, "Road Trip", acquired from the same developer, will be both a ten-pin strike and put them in the fast lane respectively.
With many sequels and updates in the works, SS is working around the clock to make this a game that will be right up the alley of millions of more users around the world, adding new facets of fun and integrating Game Center for competitive features such as leaderboards and multiplayer.
Shortly after the acquisition by SS in late May 2013, it was discovered that the keystore had been misplaced by the developer. This created problems and made updates in Android impossible. This means that it has been the length of a year now that updates have yet to occur, which SS saw as a perfect opportunity to show and prove the great potential of this game.
It's easy to see why this is such a popular game. The graphics are realistic, beautifully colourful and dazzling, the physics spot-on, the gameplay addictive and the general flow of the game fluid and comfortable. I've been playing bowling games since the first mobile games were around, always wanting to improve on my own scores or with friends and attain that ever elusive 300 game.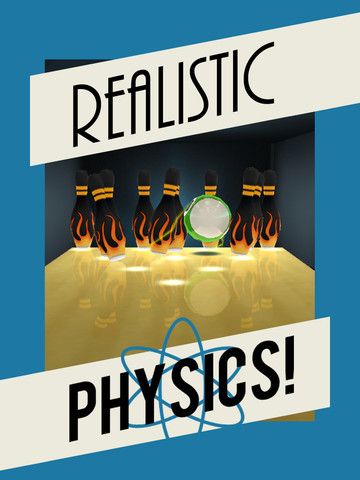 Rocka Bowling is sure to be a knockout. It should strike you as a great idea to get the ball rolling and try it today for free while there's time to spare, or you'll be guttered you didn't! Well, that's my spin on it anyway!